Fibreglass pond Building Guide
See our step by step guide below and discover how to successfully build your garden pond with resin and glass fibre...
A list of materials for your fibreglass pond project is also included...
Tips before starting
The first consideration will always be the weather! Don't try to carry out GRP pond building in damp or threatening weather conditions, be patient or risk spoiling the whole job. With the British weather in mind, many of our clients build a tarpaulin tent around the GRP pond to ensure keeping it completely dry. Working at over 25 degrees C can be very difficult to 'keep up' with the rate of cure, whilst some resins cease to function at below 10 degrees C.

Preparation of the surface. We recommend giving the pond a light render before laminating. Sharp right angled corners should be avoided when considering using glass fibre matting to build your pond. Remember the surface that you create with sand/cement is what you will replicate with glass fibre and resin, therefore sand down any sharp areas and try to ensure a smooth surface where possible. The rendered surface must be completely dry and reasonable clean when you are ready to start..

Fibreglass will not adhere to any plastic products! If you have any plastic, ie: Guttering etc. Please seek advise from ourselves regarding creating a seal.
MATERIALS/TOOLS REQUIRED
450gsm Chopped Strand Mat
Polyester Resin
Flow Coat
Catalyst
Acetone (brush/roller cleaner)
Catalyst dispenser/syringe
Throw away brushes
2.5 ltr mixing buckets
Mixing sticks
16 ltr storage bucket
Paint rollers
Metal roller
Rubber gloves
Resin Removing cream
DO NOT STOP WORKING ONCE RESIN/GEL COAT IS MIXED IT WILL CURE BEFORE YOU GET BACK TO IT!!!!
Step 1
Cut glass fibre matting into ½ metre squares for ease of use ( using scissors or Stanley knife )
Step 2
Mix approximately 1ltr of resin with correct ratio of catalyst (using a catalyst dispenser or syringe. (Resin/catalyst ratio = 10cc catalyst - 1ltr resin. In cold weather increase catalyst to 25cc to obtain a 45 min hardening time). It is imperative that the correct catalyst ratio is used, you must not use any less than 10cc of catalyst to 1ltr resin or no more than 30cc of catalyst to 1ltr resin - otherwise you will encounter under curing problems.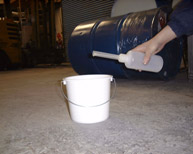 Step 3
Using a 4" brush or roller thinly apply 1 coat of resin (with hardener) to GRP Pond Building Step 3 the prepared pond (approx. 250ml of resin to 1m square area). Allow this primer coat of resin to harden for 2 hours or overnight
The pond must be always be kept dry when working (if the primed area gets wet overnight, dry out before proceeding).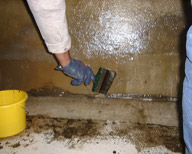 Step 4
Working with ½ metre square of area, apply a second coat of resin (with hardener) to the pond surface using a brush or roller.
Immediately lay 1 square of matting to the wet surface and using a brush apply more resin to the matting. Once matting is totally wetted out (use approx. ½ltr resin to ½m matting). proceed to step 5
Step 5
Lay the second ½m square of matting over the top of the previous layer. Coat the second layer of mat with resin and consolidate the two layers using a metal roller, eliminating any air and wrinkles.
Failure to completely wet out and consolidate the mat/resin will result in pin-holing at completion. Pin-holing is when dry fibres work there way through the gel coat surface resulting in leakages that are very difficult to rectify.
Step 6
Move across to the next area and repeat steps 4 and 5, ensuring that joins in each layer are overlapped by the succeeding layer see drawing A
Work your way around the pond using this procedure until completed.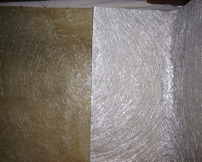 Step 7
The final step is applying the 'Flow Coat' ( one coat ). Ideally this should be applied soon after the newly fabricated structure is touch dry to ensure a good bond. Mix approximately 2kg of flowcoat with the correct ratio of catalyst (flowcoat/catalyst ratio = 20cc catalyst to 1ltr flowcoat).
Paint the catalysed flowcoat to the surface of the whole pond with a paint brush.
YOUR POND IS NOW COMPLETE AND SHOULD BE LEFT TO COMPLETELY CURE BEFORE WASHING THOROUGHLY WITH SOAPY WATER, THEN FILLING AND ADDING YOUR FISH (approx 1 WEEK IS ADVISABLE ). IF YOU HAVE ANY PROBLEMS OR NEED ADVICE PLEASE DO NOT HESITATE TO CONTACT OUR OFFICES ON:
TEL: 01268 696094 EMAIL: support@cybglassfibre.co.uk