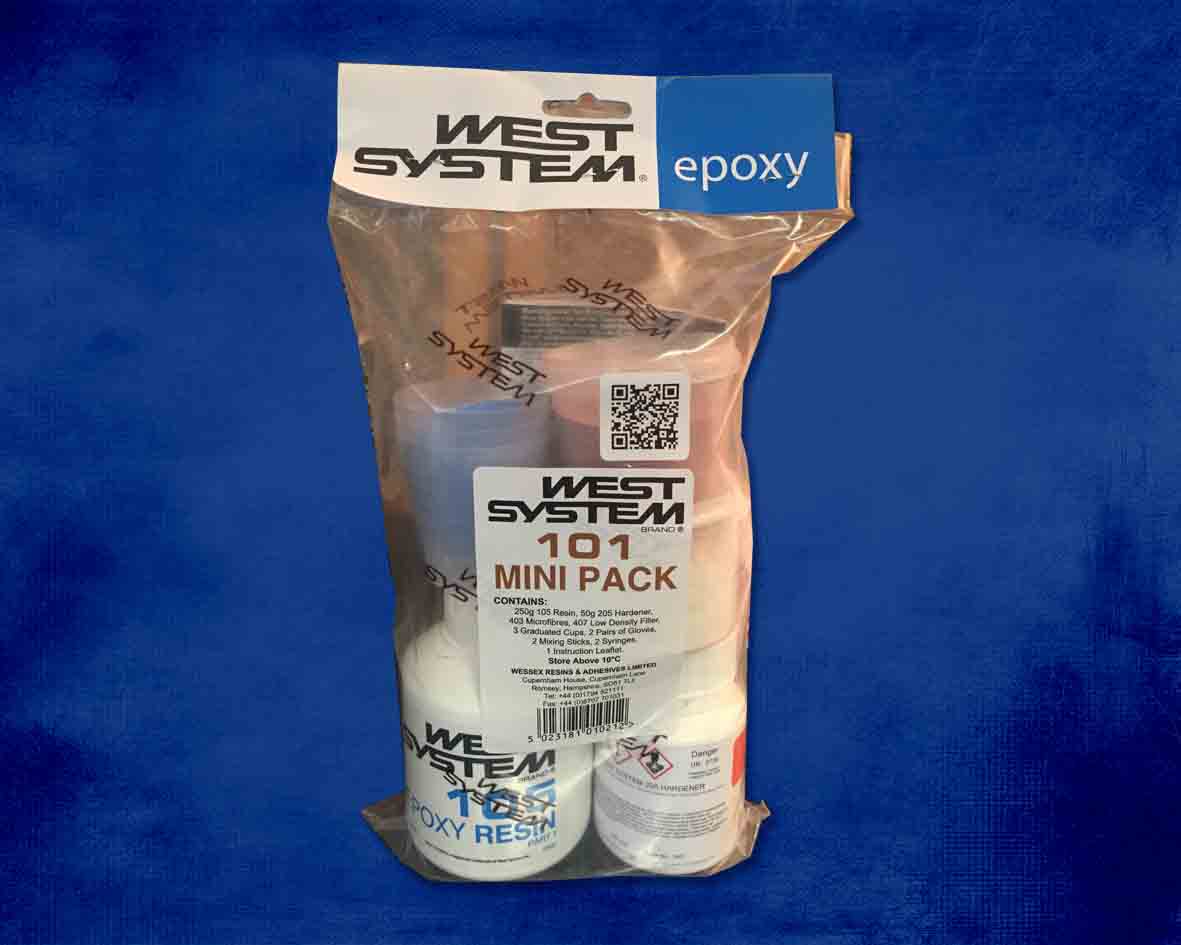 Epoxy Resin Repair Packs
£
---
West System 101 Mini Pack
Mini Pack contains - 250g 105 Resin, 50g 205 Hardener, 403 Microfibres, 407 Low Density Filler, 3 Graduated Cups, 2 Pairs of Gloves, 2 Mixing Sticks, 2 Syringes, 1 Instruction Leaflet. Store above 10C
West System 104 Junior Pack
A 600g pack of West System Epoxy (105/205). Designed for the small user or a refill for the Handy repair pack
Glass Fibre Boat Repair Kit
250g of 105 Resin, 50g of 205 Hardener, 1m of of 125mm biaxial glass tape, 1m of 175g woven tape, 1m of 100mm peel ply, 1 tub of 402 Milled Glass Fibre Filler, 1 tub of 409 Microshere Blend, gloves, mixing sticks, pots, brushes, syringes & Instructions.
G/Flex 655-K Repair Kit
Thickened Epoxy Adhesive. Marine grade toughened epoxy adhesive, ideal for creating structural repairs. Will adhere to aluminium, plastic and wooden boats.
G5 - 5 minute epoxy
West System G/5 Five-Minute Adhesive is an easy to use, 2-part resin/hardener system for quick repairs, tooling and general bonding, May be used in spot applications to hold parts in position while standard epoxy bonds cure. Bonds to wood, fiberglass and metal. Not recommended for long-term bonds subject to high loads or moisture. One to one mixture, no pumps are required. Cures in 3 to 5 minutes.
Six10 Thickened Epoxy Adhesive
A two-part, gap-filling epoxy adhesive in a self-metering cartridge. For permanent, waterproof, structural gap-filling and gluing. Bonds to wood, metal, fibreglass and concrete.